The Authority Behind Your Success
For over 75 years we've delivered unparalleled sales results to the most demanding suppliers in the industry. How? Combine pervasive market intelligence, our proprietary demand discovery system, and a team with the initiative, perseverance, and proficiency we require, and you've got yourself a winning partnership.
Why Thorson Rocky Mountain?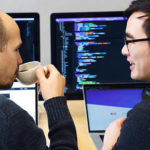 We embody the perfect balance between new account development, expert distribution management, and sharp sales finesse. Alongside our premier linecard and success with the region's largest accounts, we've become the top choice in representing suppliers in the area.
Experience the best of both worlds; large company benefits in a small company environment. A competitive salary combined with 401K, health insurance, and profit-sharing means you can do fulfilling work that affords you the well-balanced life we all crave and deserve.
We're hiring Field Sales Managers – if you're tech-savvy with sales acumen, we want you.